Tristan Eaton
From Vinyl Creep
Biography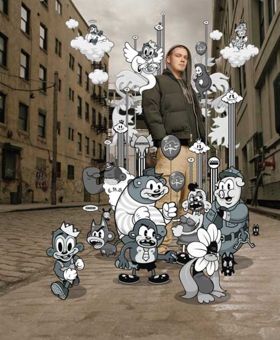 Born in Los Angeles in 1978, Tristan Eaton began pursuing street art as a teenager, painting everything from billboards to dumpsters in the urban landscape of wherever he lived, including London, England and Detroit, Michigan. Eaton then moved to New York City to study at the School of Visual Arts, but conveniently dropped out to pursue commercial projects. Since then, Eaton has been the Director of Toy Design for the infamous Kidrobot, held a teaching position at The Parsons School of Art and Design and recently formed THUNDERDOG, his very own toy brand & Creative Agency, based in D.U.M.B.O., Brooklyn.
Eaton is currently represented by the prestigious Central Illustration Agency in Europe, and Bernstein & Andriulli in the USA, where he is regularly commissioned by NIKE, Def Jam Records, Chevy Impala and Rolling Stone Magazine. Eaton keeps his more personal Fine Art on a different radar, exhibiting in galleries such as the New York's FUSE Gallery, Detroit's C-POP Gallery and Tokyo's Gallery LELE.
Designed Toy Releases
These are toys both designed by Tristan.
Toy Series Participation
These are toys Tristan has lent his design skills to.
Customs
These are one-off toys by Tristan.
Images
Production Pieces
Customs