Pip and Norton
From Vinyl Creep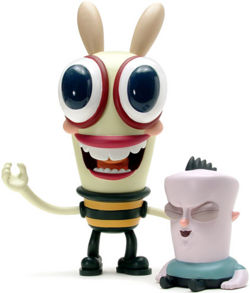 Pip and Norton are a two figure set created by Dave Cooper in 2004 and produced by Critterbox. The figures stood 7.5" and 3" tall and were limited to 3,000 pieces.
Pip + Norton are a terrific collector's set by Dave Cooper, based on the comic series he co-created with Gavin McInnes of Vice — the edgy youth culture magazine.
The packaging for Pip + Norton is a collector's item all by itself, but there's more — reconfigure the packaging, add legs with the included Velcro attachments, and the packaging converts into the walking car featured in PIP + Norton comics — and the perfect display platform.