Drilone
From Vinyl Creep
Biography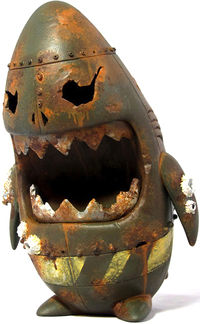 DrilOne is a New Yorker at heart and a San Franciscan by location. On the East Coast, he painted only 2d work; on the west coast, toys are his preferred canvas. He began working with vinyl in 2005, and soon after stumbled upon the formula that would serve as his signature style. By taking a playful object and distressing it to, quite literally, its breaking point, Dril comments on oblivion, transience, and re-birth. Dril says simply: "I love rust, decay, history, ruins, military, skulls, vintage, and all this makes me who I am." Art is in Dril's blood. The son of a painter, he cannot imagine or remember life without drawing. He is a veteran of the New York City public school system and spent most of his life amidst the city's chaos and creativity. His upbringing and admiration for contemporary, pop and graffiti artists are reflected in his work. The many inspirations that inform his art include abandoned amusement parks, insane asylums and old military bunkers. In addition to his work as a toy artist, Dril is an accomplished graphic and web designer. While he has yet to mass-produce his own original designs, he has made a name for himself with his one-of-a-kind customs in the art toy community. In 2009, his entry in Gallery 1:AM's Shop Wars won the top honour. His pieces can be seen in group shows across the country and are sought after by collectors. Not only is he a customizer, a collaborator and generally a co-conspirator, but Dril also added curator to his hat rack last year. He remains very active in putting together and promoting custom gallery shows. Dril is a regular at shows, conventions and events. Wherever there are blank toys to be destroyed and reborn, you are likely to find him. In between, you can always reach out to him on Twitter.
Solo Shows
Designed Toy Releases
These are toys designed by Drilone.
Toy Series Participation
These are toys that Drilone has lent their design skills to.
Customs
These are one-off, or very limited, pieces.
Images
Production Pieces
Customs