Category:Images - Glow in the Dark
From Vinyl Creep

Please copy and paste ' [[Category:Images - Glow in the Dark]] ' into the end of your article to include it in this category.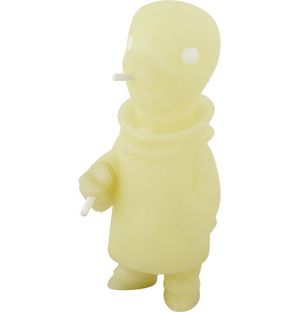 Glow in the Dark toys have become increasingly popular as a feature on chase figures, special editions, or just to give that toy a special edge. And they don't always come in the usual yellow colour either, new purple, blue and orange glow in the dark figures have also been appearing. The traditional Glow in the Dark figures appear as a creamy yellow colour, although some figures are not entirely Glow in the Dark and may only have glowing features such as eyes or patterns. Glow in the Dark is often referred to as GID.
See below for lots more GID toys.
Media in category "Images - Glow in the Dark"
The following 70 files are in this category, out of 70 total.