Difference between revisions of "Art Without Borders"
From Vinyl Creep
 

(No difference)
---
Latest revision as of 13:25, 24 November 2020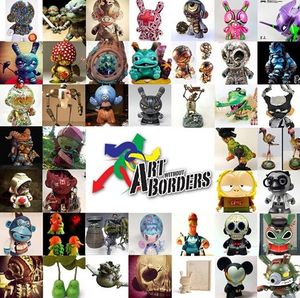 Art Without Borders has invited many artists from all around the world in the aid to spread awareness and raise funds for Doctors Without Borders (Médecins Sans Frontières). This program provides healthcare to those not able get any, regardless of race, religion, or political affiliation. This show will features tons of amazing custom vinyl work, as well as resin and hand made plush pieces.
Dates & Addresses[edit]
March 22nd to April 22nd 2014 - Blind Whino, 734 1st St SW, Washington, DC 22024 moving to Art Whino Gallery, 120 American Way National Harbor, MD 20745
February 23rd to March 23rd 2013 - Art Whino Gallery, 120 American Way, National Harbor, MD 20745
The Artists[edit]
2013: ANTZ, Ardabus Rubber, Arkiv, Artmymind, Baby Vtec, beTSO, Brent Nolasco, Carson Catlin, CLOGTWO, David Kraig, DeeTen,Dolly Oblong, Emily Bee, Josh Pearce, Fakir, Fernando Roman, Frank Mysterio, Gabriel Carpio, Graham Franciose, Graphix Chick, Grimsheep, Hydro74, Jeremiah Ketner, Josh Mayhem, JC Rivera, Josh Taylor, Kasey Tararuj, Keithing, Kevin Gosselin, Lickyourelbow, Mark Troup (Gomi Toys),Mc Baldassari, Mr Munk, Muffinman, Nikejerk, Nightmare Mikey, Otto Bjornik, Patrick Francisco, Phu, Bob Conge, Roar With Lukas, Rsin, RunDMB, Sekure D, Southerndrawl, Sylvia O, Superwaxx, Tadeo Mendoza, Task One, Thanathan, UME Toys, WuzOne
2014: Angella Powell, Angry Woebots, Ardabus Rubber, Arkiv, Baby Vtec, Beef Poo, Brent Nolasco, Carson Catlin, Chanimation, Clogtwo, David Kraig, David Ten, David Weeks, Gabe Griffiths, Gabriel Carpio, Graham Franciose, Graphix Chick, HX, Ian Ziobrowski, iRoc, Fuller Designs, JALOS, Jay222, JC Rivera, Jenn Bot & Tony Bot, Valleydweller, Jerk Face, Josh Taylor, Jfury, Juanito Maiquez, Kasey Tararuj, Kevin Gosselin, KOmega, Lickyourelbow, Matt Anderson, Matthew Perez, Mark Troup (Gomi Toys), MCA, Mc Baldassari, Merrci, Mike Fudge, Mike Slobot, Nerviswr3k, Nick Knite, Nightmare Mikey, Nikejerk, Patrick Wong, Plaseebo, Respect Graphics, Richard Walker, Ryan McClure, Steve Ferrera, Sylvia O, Tasha Zimich, Task One, Taylored Curiosities, Thomas I Rabbits, Tyler Coey, Uncle Studios, Vinsart, Viseone, Wetworks
2013:
2014: