Jeremiah Ketner
From Vinyl Creep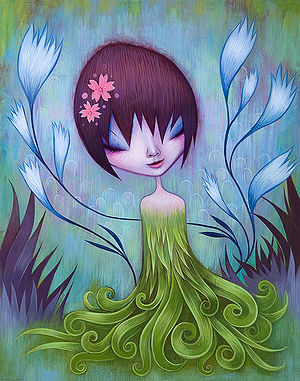 Biography
Jeremiah Ketner is a Chicago-based visual artist. Ketner draws inspiration from Japanese aesthetics, packaging design, magazine ads and urban graffiti. He has exhibited in group and solo shows in Los Angeles, New York, Seattle, Houston, Detroit and all over the Midwest. He shares a sunny, cozy apartment with his wife, two beautiful boys and two lovely kitties, where they enjoy sipping Kona Coffee among other activities.
Jeremiah's paintings are an assemblage of muted tones, non-dimensional forms, flower like shapes, and charming little creatures navigating through a sort of candy-land world. The paintings are created with no preliminary drawing; a composition is formed haphazardly and then outlined through the building process of layers.
Solo Shows
Designed Toy Releases
Toy Series Participation
These are toys Jeremiah has lent his design skills to.
Dunny- 3" "Sayonara" Dunny Series 2012, 2012
Headphonies - 3" Stargirl, Series 2, 2009
Customs
These are one-off customs and one-off pieces by Jeremiah.
Images
Production Pieces
Customs
Other Artwork
External Links