Mori Chack
From Vinyl Creep
Biography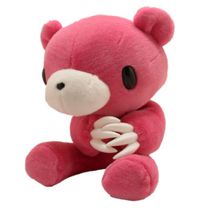 Mori Chack is the artist name of a Japanese graphic designer, who was born in Sakai, Osaka, Japan. He is famous for his Chax product line, especially Gloomy Bear, a 2m tall, violent, pink bear that eats humans. The design is an antithesis to the excessively cute products produced by Disney, Sanrio's Hello Kitty, and other companies. Mori Chack believes that humans and animals are incompatible, and an animal is wild by nature. This is expressed most pronouncedly by the Gloomy Bear, which is often shown blood stained and striking humans. Gloomy Bear is also available in different colours with slightly different designs.
Designed Toy Releases
These are toys designed by Mori.
Toy Series Participation
These are toys that Mori has lent his design skills to.
Customs
These are one-off figures by Mori.
Images
Production Pieces
Customs