Punishment or Luxury?
From Vinyl Creep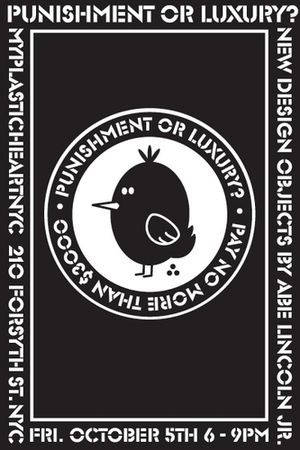 Abe Lincoln Jr will ponder Punishment or Luxury? with the opening of his solo @ myplasticheartnyc on Friday, October 5th 2007 from 6 to 9PM. With his first solo in two years, Abe will explore the question of authenticity in underground cultures. His journey starts with a show installation and carries through with the release of a series of luxury design objects.
His signature character Char will be immortalized as a limited-edition sterling silver pendant with black-diamond 'poop' produced in collaboration with Random Nature. Moving from bling to the street, Abe will release the first two artist decks from The True Love Collective and a show exclusive 'Punishment or Luxury?' deck in both gold and silver colourways (10 of each colourway). Rounding out the premier merch, Abe will offer two tees - a Char tee and a special 'Punishment or Luxury?' tee limited to just 12 pieces. Sold blind-bagged with a header card, each of the show exclusive tees will be hand cut by the artist and the designs will be retired after the show ends.
Dates & Addresses
[
edit
]
October 5th - November 4th 2007 - My Plastic Heart, 210 Forsyth Street, New York, NY 10002