Noferin
From Vinyl Creep
Biography[edit]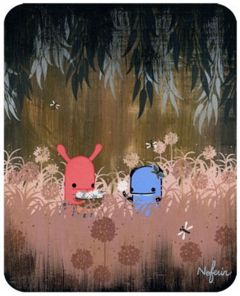 Noferin is the collaboration of two parallel minds: that of Candy and Nicho.
Trained as a Graphic Designer – BDes (VisComm); BvisComm (First Class Hons) – Candy possesses an acute understanding of solid design principles. She brings these skills into her paintings; a medium that she finds to be more expressive and free.
Studying an Environmental Science degree, Nicho spends every spare moment developing the world of Noferin in a literary sense and through wooden sculpture.
Together, they delve into the whimsical world of Carrara Island and its inhabitants – meshing the fine art, design and literary worlds together in a complete and unique package.
"Our world is a living environment that grows everyday. At first, we were shaping and creating the boundaries of Carrara Island, but now the world is so vivid and real to us that our role has changed from creator to story-teller. We are the vessels for telling the stories of Carrara Island and the unique characters that call it home. Noferin wishes to take the audience on a journey of discovery that uncovers something new and quite magical with each chapter of this perpetual narrative."
Solo Shows[edit]
Designed Toy Releases[edit]
Toy Series Participation[edit]
Customs & Show Pieces[edit]
Production Pieces[edit]
Customs & Show Pieces[edit]