Clutter Magazine
From Vinyl Creep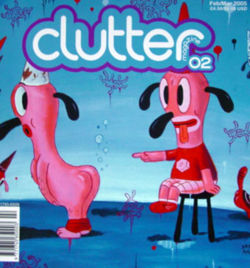 Originally UK-based with an international perspective, Clutter is the first English language magazine to focus on the designer toy phenomenon. Combining in-depth interviews with the scene's leading figures, forthright editorial and outstanding photography and design, it's rapidly establishing itself as the toy collector's must have read.
Clutter was founded in September 2004 as we felt there was a lack of information out there for the collectors of Designer Vinyl toys. As collectors ourselves we became increasingly frustrated with this information black hole. On graduating from University with degrees in Graphic Design we decided to do something about it. After speaking with collectors, designers and manufacturers we realised just how big the demand for information was… the response was truly amazing!!
At Clutter we understand the relationship between many of the more underground movements, and draw strong links between ART, TOYS, SKATEBOARD CULTURE, GRAFFITI, MUSIC, and FASHION! This approach has resonated with our own readership which is as diverse as our outlook.
Clutter Magazine was independently published, founded and designed by: Miranda O'Brien & Nick Carroll
For Clutter's gallery click here.
23 10 Years of Clutter
22 ReAction
21 Lost in Space
20 Visceral Visions
19 Punch You In The Face!
18 Suck My Trophy!
17 The Future is Stupid
16 Designer Toy Awards 2011
15 Gods & Monsters
14 Eat My Dust!
13 Unlucky for Some
12 Punk Rock Poster Girl
11 Robots, Guns & Girls
10 Super Natural
09 The Wheaty Wheat Issue
08 The Bling Issue
07 1st Anniversary Issue
06 Asian Invasion Part 2
05 Couples
04 We Love NJ
03 Asian Invasion
02 East Coast VS West Coast
01 Monsters Ball
Clutter Toy Exclusives
[
edit
]
Clutter Customs
[
edit
]