Category:Munky King
From Vinyl Creep

Please copy and paste ' [[Category:Munky King]] ' into the end of your article to include it in this category.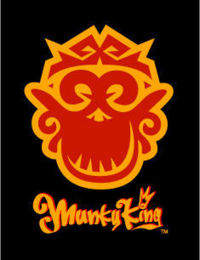 Trickster...Warrior...Revolutionary. Sick of living under the yoke of the Jade Emperor, Monkey King staged a coup against the Kingdom of Heaven using his wits, his cunning and a very big stick. Individuality in the face of conformity is his legacy.
In his honor we built this temple, filling it with toys that embody his rebellious and creative spirit. Cast from the hearts and minds of independent artists from around the world, these "Designer Toys" or "Urban Vinyl Toys" are part of a growing international phenomenon. In an age where mega-conglomerates churn out mass-produced disposable hunks of cheap plastic, these limited production-run collectibles are revolutionizing the way people think about toys.
Munky King is the brainchild of Patrick and Chanda Lam, with retail stores in Chinatown LA and Melrose Ave. Along with showcasing designer toys, mini-figures, plush, prints, original art, and clothing, Munky King hosts art shows and toy release parties in its gallery. The company is now producing toys with such renown artists as Luke Chueh, Thomas Han, Kii Arens, and Nathan Jurevicius. The Los Angeles Times hails Munky King for "launching a more contemporary revolution against conformity - this one aimed at the fiefdoms of mainstream art and mass-produced toys."
MUNKY KING CHINATOWN, 441 Gin Ling Way, Los Angeles, CA 90012
MUNKY KING MELROSE, 7308 Melrose Ave, Los Angeles, CA 90046
Exclusives
[
edit
]
Pages in category "Munky King"
The following 32 pages are in this category, out of 32 total.
Media in category "Munky King"
The following 36 files are in this category, out of 36 total.