Operation Smile Custom Show
From Vinyl Creep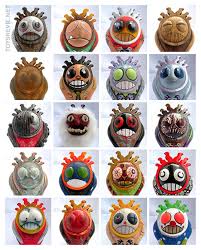 The DESTROYER embarks on a new path, not of "destruction", but of charity, with the full reveal of this series of custom-Destroyers by a host of artists, working on a resin figure with character designed by O_Negative and sculpted by Eric Nocella Diaz, produced by Argonaut Resins.
Proceeds of the charity sales will benefit "Operation Smile" www.operationsmile.org with participating artists forgoing being paid for their efforts. I am proud to be a part of this awesome collective folks, and thank O_Neg and Eric for the opportunity! to have a look at the varied customs click her or go directly to Argonaut Resins for the full-story of how this event came bout.
The customs Destroyers were available via the Argonaut Resins Online store.
The Artists
[
edit
]
O Negative, Eric Nocella Diaz, Emily Beaulieu, Kat Sapene, ToyGodd, Vang, ViseOne, Brian Slivka, ChausKoskis, David Ralabate, Eddie Wires, Jessica Trussel, Noah, OsirisOrion, Rich Dufresne, Spanky Stokes, Steve Ceragioli, Andy Heng, Valerie Gudell