Teddy Troops
From Vinyl Creep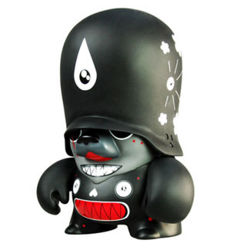 Designed by Flying Fortress and produced by Adfunture. Teddy Troops are available in two sizes, the first being the original 3.5" figures, and the more recent 10" figures which feature a removable helmet. In 2017, a new mould of Teddy Troops was released which stood 4" tall.
Editions
[
edit
]
3.5" Figures

Series 1, 2004
All designs by Flying Fortress. The Shaved bear was only available in a 3 piece pack with the other two designs.
Artist Series - Series 2, 2006
Artist Series - Series 3
Special Editions*
4" Figures

Series 2.0 - 2017

Original Blue
Original Red
Flying Fortress Blue
Flying Fortress Grey
Spray Trooper
Spray Trooper Black
Skunk Black
Skunk Orange
Ladri di Biciclette Gold
Ladri di Biciclette Silver

CMYK 2.0 - 2020

Cyan
Magenta
Yellow
Black
10" Figures
Features removable helmet.
For customs click here.
3.5" Figures
[
edit
]
Series 1
[
edit
]
Series 2
[
edit
]
Series 3
[
edit
]
Special Edition
[
edit
]
4" Figures
[
edit
]
10" Figures
[
edit
]