The Last Unicorn Art Show
From Vinyl Creep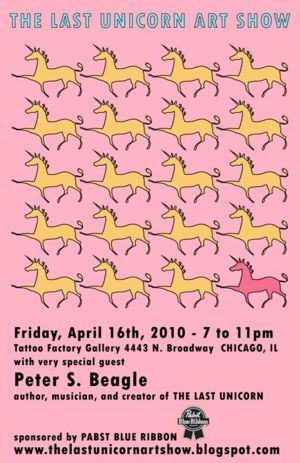 Peter S. Beagle's THE LAST UNICORN is a timeless fantasy story full of adventure and surprise, set within a poetic and humorous world of legend. The novel has been a cult classic since it was first published in 1968, selling over 6 million copies around the world in more than 20 languages. In 1982 the story was adapted by Peter S. Beagle and Rankin-Bass into one of the greatest animated films of all time.
Peter S. Beagle is the author of numerous screenplays and books, including THE LAST UNICORN, A FINE AND PRIVATE PLACE, and TAMSIN. His many honors include the Hugo, Nebula, Locus, and Mythopoeic Fantasy Awards.
THE LAST UNICORN is a magical story full of positive imagery with a message of peace, understanding, and positive change and growth. It's not only about heroes, wizardry, winning battles, and fighting monsters; it is a tale about growing up and the discovery of your special place in the world: an original fairy tale of transformation and the realization of our dreams.
To coincide with the gallery show, there will be screening of THE LAST UNICORN on Saturday, April 17th. (Location TBD). A Q&A with Peter S. Beagle will be conducted after the movie.
Dates & Address
[
edit
]
April 16th 2010 - Tattoo Factory Gallery, 4443 N. Broadway in Chicago, IL USA
The Artists
[
edit
]
Alexandrea Pataky, Alphonso Myers, Andrea Jablonski, Anna Cerniglia, Anne-Katrin Elliott, Ashley Long, Ashley Stephens, Beth Cisco, Brian Gubicza, Brianne Drouhard, Chelsea Bloxsom, Cheri Gutierrez, Czr Prz, Daisy Church, David Rettker, Dean CHOOCH Landry, Dustin Hostetler, Ellen Greene, Esteban Alcozer, Francely Plaza, Greg Shirilla, Homeless Cop, Jaisen Ehas, Jenny Frison, Jeremy Scheuch, Joey D, Jourdon Gullett, Julia Haw, Kat Brunnegraff, KJ Becker, Kymm! Chavers, Lana Crooks, Lauri Apple, Luke Firle, Maya Sinstress, Megan Smithyman, Melissa Sung, Michelle Dreher, Miss Withers, Mitch O'Connell, Nick Nihira, Omar Gutierrez, Scarlett Trumpy, Steph Laberis, Stephanie Christian, Steve Seeley, Tessa Graves, Thea Schultheiss, Yum Yums