The Pizz
From Vinyl Creep
Biography
[
edit
]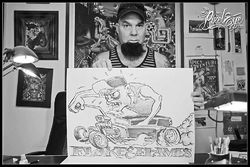 It's been the definitive long and strange trip from hashing out those notebook masterpieces in the back corner of the classroom to rightfully assuming the title of Lord of Lowbrow. From doing Rat Fink comix for the legendary Big Daddy Roth hisowndamnself, transforming the lowly skateboard deck into an artistic canvas in ways unforeseen, splashing flash on the walls of tattoo shops the world over, delighting the kiddies and authorities alike with a set of trading cards featuring your favorite mass-murderers, burrowing into record collections around the globe via Sympathy For The Record Industry cover art, conquering the realm of canvas and paint, packing'em in for shows at the world HQ of lowbrow art galleries, La Luz De Jesus in Los Angeles, no less than 6 times, to foisting his tome Atavistic Avatar upon the masses, the fuzzy-chinned one has been quite the industrious vermin gnawing at the cheese of established convention.
He very sadly passed away in August 2015 aged just 57.
Designed Toy Releases
[
edit
]
These are toys designed by The Pizz.
Toy Series Participation
[
edit
]
These are toys that The Pizz has lent their design skills to.
Circus Punk - 15" "Laugh Now, Cry Later", 100 pieces, 2006
Customs
[
edit
]
These are one-off, or very limited, toys.
Production Pieces
[
edit
]
Customs
[
edit
]
External Links
[
edit
]