Mimic
From Vinyl Creep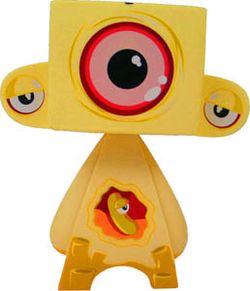 Biography
Mimic is a small friendly man whose main aim is to make people happy with his world of creatures. This is often presented to the public in the form of Designer Toys, prints, tees and other media. Spawned in the city of Portsmouth UK, he resides there by the sea and occasional sun thinking up the next way to infiltrate your mind.
He has also been affiliated with X-Men and The Brotherhood of Mutants, though recently he has been taking a break from super hero/villainy to concentrate on his art.
Mimic is also the man responsible for the world-munching logo on Vinyl-Creep.
Designed Toy Releases
Toy Series Participation
Customs & Show Pieces
Images
Production Pieces
Customs & Show Pieces