The Dunny Show 2004
From Vinyl Creep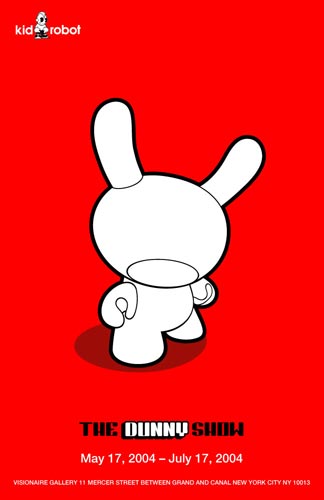 Kidrobot is proud to present The Dunny Show, an exhibition which features the work of more than 50 important artists and designers with backgrounds in fine art, graffiti, industrial design, and illustration, in a unique exhibition of customized Dunny toys that will be held at the Visionaire Gallery.
Dunny, which is a 20-inch tall action figure made of soft, smooth vinyl, was conceived and designed by Kidrobot toy designer Tristan Eaton and owner/President Paul Budnitz to be a "toy with attitude" that could be customized in a broad variety of styles by diverse artists working in different mediums.
Among the artists and designers who will personalize a Dunny for the exhibition are world-famous graffiti artists Doze Green, Tilt and Fafi and Seen; renowned toy designers Jason Siu and Pete Fowler; illustrators including Disney's Teacher's Pet creator Gary Baseman; graphic artists including Hunter Gatherer; fashion designers Diane von Furstenberg and Heatherette, and a number of fine artists, including Alexis Rockman and Jessica Stockholder. Design studio participants include artists from PDI/Dreamworks Animation Studios and Steuben Crystal. And many more.
All of the Dunny toys created for this exhibition will be for sale at the Visionaire Gallery. A portion of the proceeds will be donated to the Hetrick-Martin Institute to help fund a variety of educational and after-school programs.
Dates & Addresses
[
edit
]
April 17 to July 17, 2004 - Visionaire Gallery, 11 Mercer Street in SoHo, New York City
The Artists
[
edit
]
Alexis Rockman, Alejandro Cardenas, Anne Doran, Arnell Group, Kenny Wong, Cube Works Japan, David Horvath & Sun-Min Kim, Deph, Derek Hess, Diane Von Furstenburg, Don Hearn for WLVZ Menswear, Doze Green, Eishu Yosida, Ewok 5MH, Fafi, Filth, Frank Kozik, Friends with You, Gary Baseman, Glenn Barr, Greg Foley, Haze XXL, Heatherette, Huck Gee, Jason Siu, Jessica Stockholder, Jonathan Alger, Kenzo Minami, Laurene Boym, Maharishi, Mark Brower, Mark James, Mist, Nathan Jurevicius, NYC Lase, Pete Fowler, Quik, Ranjit Christopher Lalvani, Rob O'Neill of PDI/Dreamworks, Scott Acid Chester, SEEN, Shepard Fairey, Sket-One, SSUR, Steuben Glass, Tim Biskup, The Designers Republic, The London Police, Tom Thewes, Tristan Eaton, Tyler Hays, Usman Saeed, Yoyamart