Arkiv
From Vinyl Creep
Biography[edit]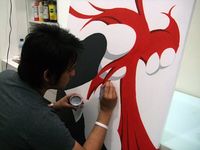 Based in Indonesia, a figurine designer and an illustrator, Arkiv Vilmansa, also known as ARKIV, has designed a number of characters since 2005, including his debut figurine, ARKIV INSTANT.
In 2005, while still being an undergraduate architecture student in Bandung, he fell in love with the beauty of designer toys and started collecting them. In early 2007, his love of designer toys inspired him to design and make his very own toy. Finally in late 2007, he and a friend started a creative group company named ARKIV INC.
ARKIV has collaborated with a number of famous designer toy artists such as TOUMA and SOMETHINGILL studio. He also participated in designing a part of YOKA vinyl series using his design style. Lately, ARKIV has done a lot of paintings that can be identified with his curvy style of painting. ARKIV is now focusing fully on his figurine Arkiv, leaving his architectural background behind, and trying to pursue his dream to make Arkiv a well worldly known figurine.
Designed Toy Releases[edit]
Toy Series Participation[edit]
Yoka - 2.5" Series 1, 2009
Customs & Show Pieces[edit]