Rsin
From Vinyl Creep
Biography
[
edit
]
RsinArt is a self taught artist living in Reading Pennsylvania. Early 2008 he decided to sit down and teach himself to paint, after having no previous training. With a constant need to improve, he has worked hard over the past 4 years to build a strong sense of personal style. Creating a world he calls "Whispers", and contains many creatures that often take shape on the three dimensional art toys and sculpts he's known for. Rsin's artistic vision has him working on a wide range of mediums from Designer Vinyl, Canvas, Watercolor, sculpture, etc. Since picking up a brush in January of 2008 Rsin has participated in over 50 shows, in galleries from New York City, San Francisco, Los Angeles, Montreal, Germany, Amsterdam, Detroit and more. As well as participated in big events like Art Basel Miami, New York Comic Con, San Diego Comic Con, Dcon, Wizard World and more. 2012 will see Rsin coming out with production work as well as starting to release limited resin toys and continuing toward his goal of growing and learning as an artist with each new piece.
Designed Toy Releases
[
edit
]
These are toys designed by Rsin.
Toy Series Participation
[
edit
]
These are toys that Rsin has lent their design skills to.
Dunny - 3" "Agent K", 1,200 pieces, 2012
Customs
[
edit
]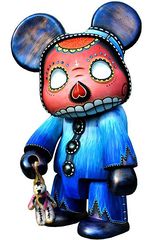 Production Pieces
[
edit
]
Customs
[
edit
]